Product Designer
E-mail: viktoriadobrodenchuk@gmail.com
​​​​​​​
I like building design processes, optimizing design systems and inspire designers to become best versions of themselves, while feeling happy and heard.

Design Team Lead and UX Architect in Wildix - The First Sales-Oriented Unified Communications Solution.
Previously - Lead product designer at Norwegian tool for sports team management, Design Lead at Steelkiwi, and Lead product designer at an e-commerce company creating mobile apps for online stores with more than 5 million users.
I am a mentor in ADPlist and Projector Platforms. Recently receive distinction for 1000 Mentorship Minutes.
Designer since 2012. I did branding, web design, graphic design, and for the last 6 years product design. I am a UX-certified by Nielsen Norman Group, I teach Material Design, write articles, and interview designers and other IT specialists. I also do paintings, photography and play PC games.

MBTI - Campaigner ENFP.
I try to update the "Works" section regularly. Additional work can be found on  Dribbble. Contact me to know more!
Product Design Team Lead, UX Architect
from 02.2022 - Present


Wildix

 

(
web-based VoIP PBX UC&C system

)
Design Team Lead and UX Architect in Wildix - the first sales-oriented web-based VoIP PBX UC&C system solution. We provide comprehensive tools like chat, VoIP-based communication, meeting scheduling etc. for support teams and companies with long sales cycle across multiple platforms.
Responsibilities:
- Optimization of design processes;
- Work with a big design system for multiple products, platforms and color modes;
- UX and UI work on complex features;
- Implementation of research and design verification methods;
- Hiring designers.
UX Designer, Design Lead
from 09.2019 - 02. 2022
Steelkiwi (Web and Mobile design and development)
Responsibilities as Design Lead:
- Managing a design team of 6 people;
- Mentorship program for designers;
- Professional development of design team members;
- Responsible for design team work standards;
- Building a design team: creation of test tasks and interview process.
Product designer:
Norwegian sport club management tool (web-admin and mobile apps)
Product consist of a web admin panel for owners of sports organizations and coaches, and an
application for players. The functionality includes a calendar, management of events and
members, internal accounting for clubs, and work with legal documents.
I am responsible for developing new functionality, conducting interviews with users, improving
the current functionality, as well as supporting the design system. Cross-functional team.
Framework - OKR.
Other projects:
- MyPitchlist (real estate tool, New Zealand);
- Referer (tool for recruters and refand management, New Zealand);
- Laundry (mobile app for laundry services);
- Lune (mobile app for money savings and transer);
- Metudela (website and mobile app for trip generation);
Product Design Team Lead
from 12.2016 - 07.2019
AUTODOC (E-commerce)
I was responsible for the design of e-commerce applications, which operate in 26 European countries for more than 2 million users. 
During the time I did 3 complete redesigns, designed four products, and was responsible for hiring and training employees. 
My responsibilities included analyzing statistics, improving UX and conversion and building design libraries.
You can see some of the apps that I've been working on by yourself: Autodoc on PlayStore, Autodoc on AppleStore, PetsExpert on PlayStore. 
UI/UX Designer
from 12.2015 to 12.2016 (1 year)
DarinX (Mobile Development, Web Design, Web Development, Branding)
For a year I honed my skills in a design studio. I did a dozen web design and branding projects. In this company, I received my first serious UX project - to create a tool for generating resume in PDF from the entered data.
Designer 
from 07.2014 to 12.2016 (2 years 5 months) 
UMG (Shipping) 
Branding, web design, social network pages design. 
Retoucher, manager 
from 03.2014 to 09.2014 (6 months) 
Retouchify (Photo Retouching Application) 
Rapid retouching of photos of varying complexity.  
Freelance designer 
from 09.2012 to 12.2016 (4 years 4 months) 
Freelance, (IT) 
Development of brand books. website layouts, printing products, photo retouching.  
ADDITIONAL EDUCATION AND COURSES
UX Certified by Nielsen Norman Group
,
DesignOps, id:1030292 
UX Certified by Nielsen Norman Group, id:1030292
(2019, NN/g) 
Design Team Management


(2022, Projector)
Google UX Course


(2021, Coursera)
Creative Leadership 


(2021, Projector.Online) 
Affordances: Designing Intuitive User Interfaces
(2020, Final Grade: Top 10% distinction, Interaction Design Foundation)
DAO Lead, team management course 
(2018,

IAMPM School

)
"UI/UX"
(Lviv IT School) (2016, 2.5 months)
Fundamentals of Graphic Design
(Final Grade: 98.4%, California Institute of the Arts)
Modern Art
(
Higher School of Economics — National Research University)
Modern Art'n Ideas
(Final Grade: 92%, Museum of Modern Arts)
Design History 
(Grade 85/95, NIU School of Design)
"Step", full crash course on IT professions
(2007-2009)
"Rhetoric and oratory"
(2012,

Vera Kholodnaya film school

)
How to get to know yourself through art 
(2018, Bang Bang Education)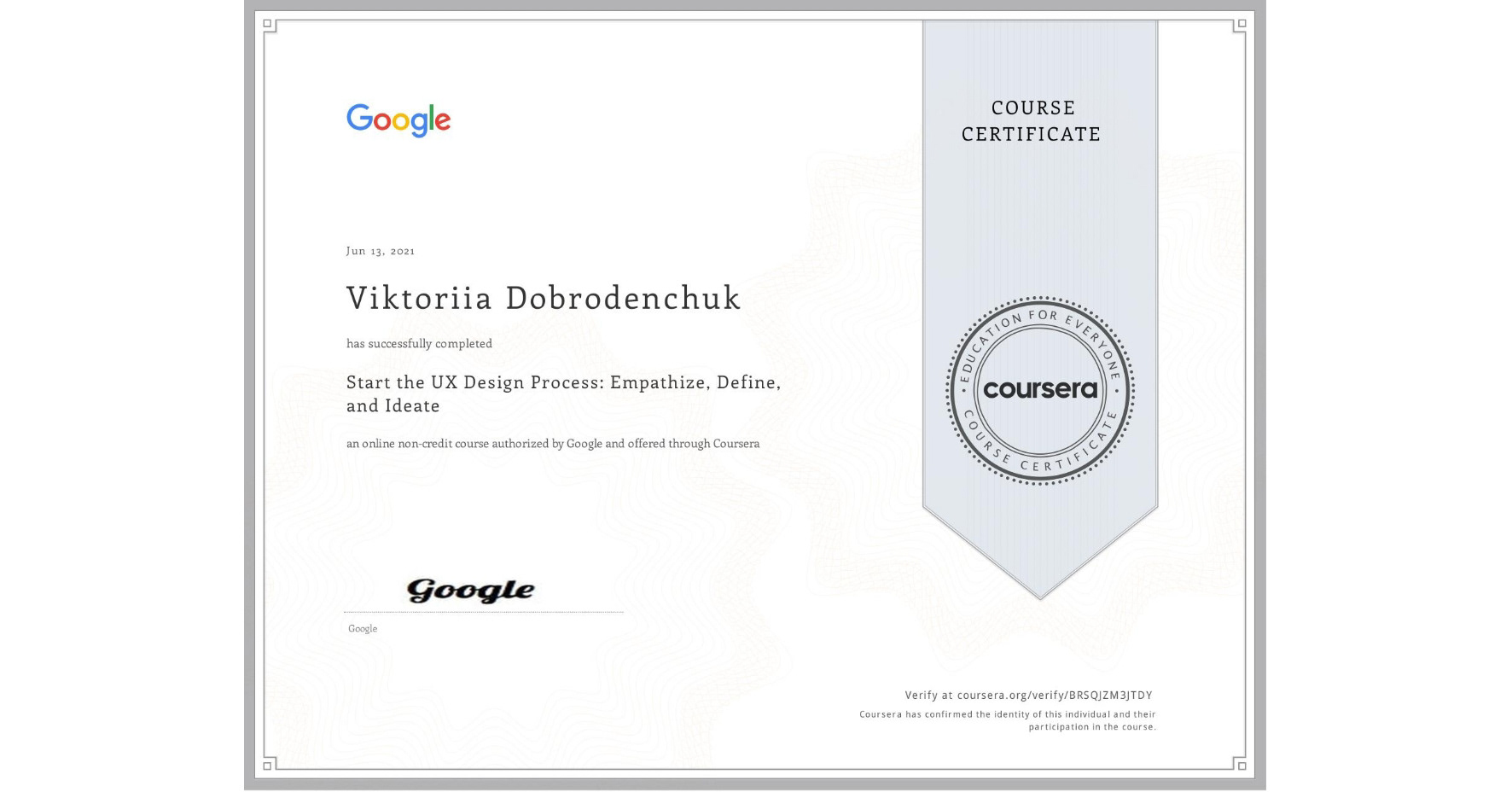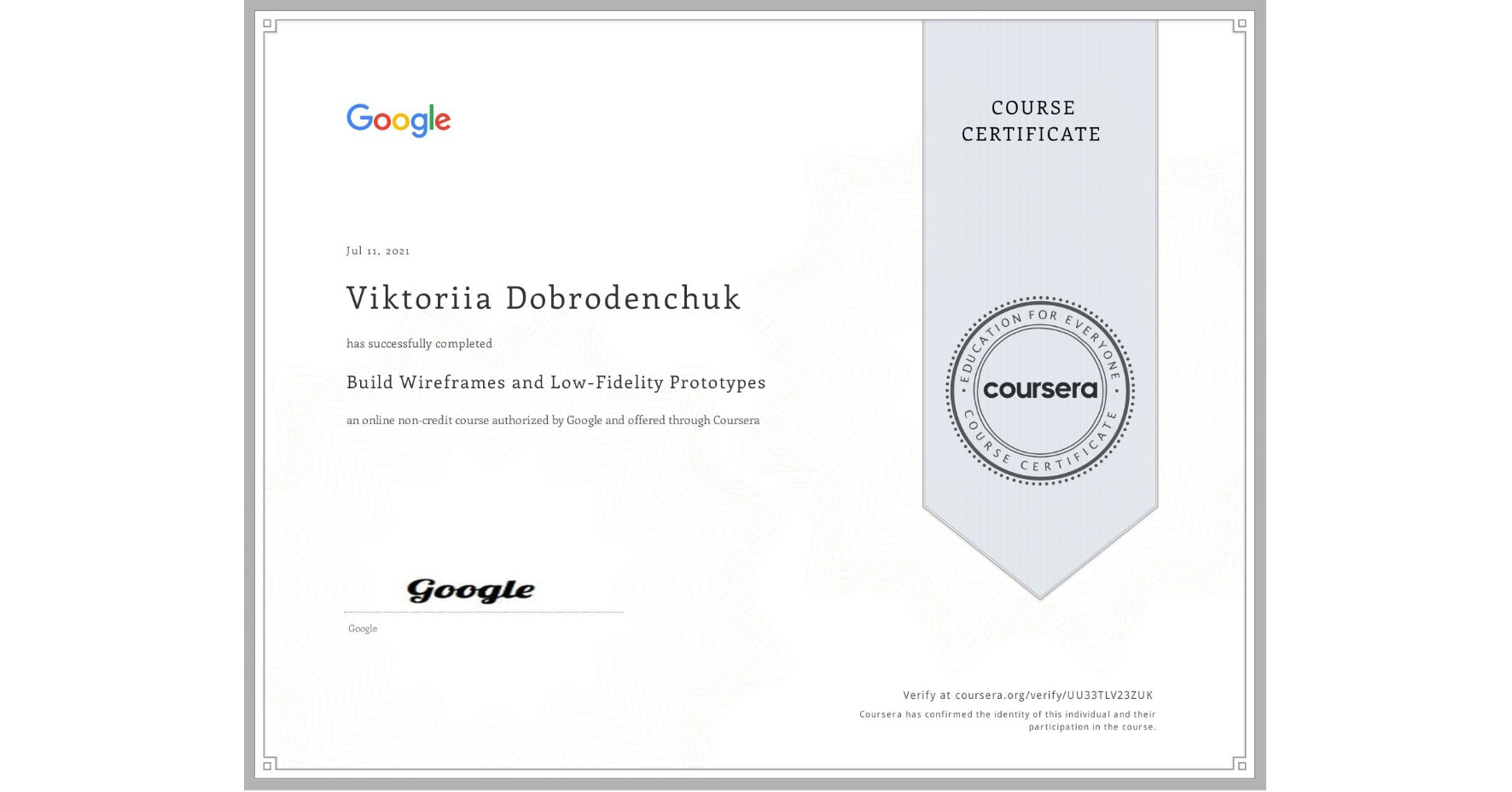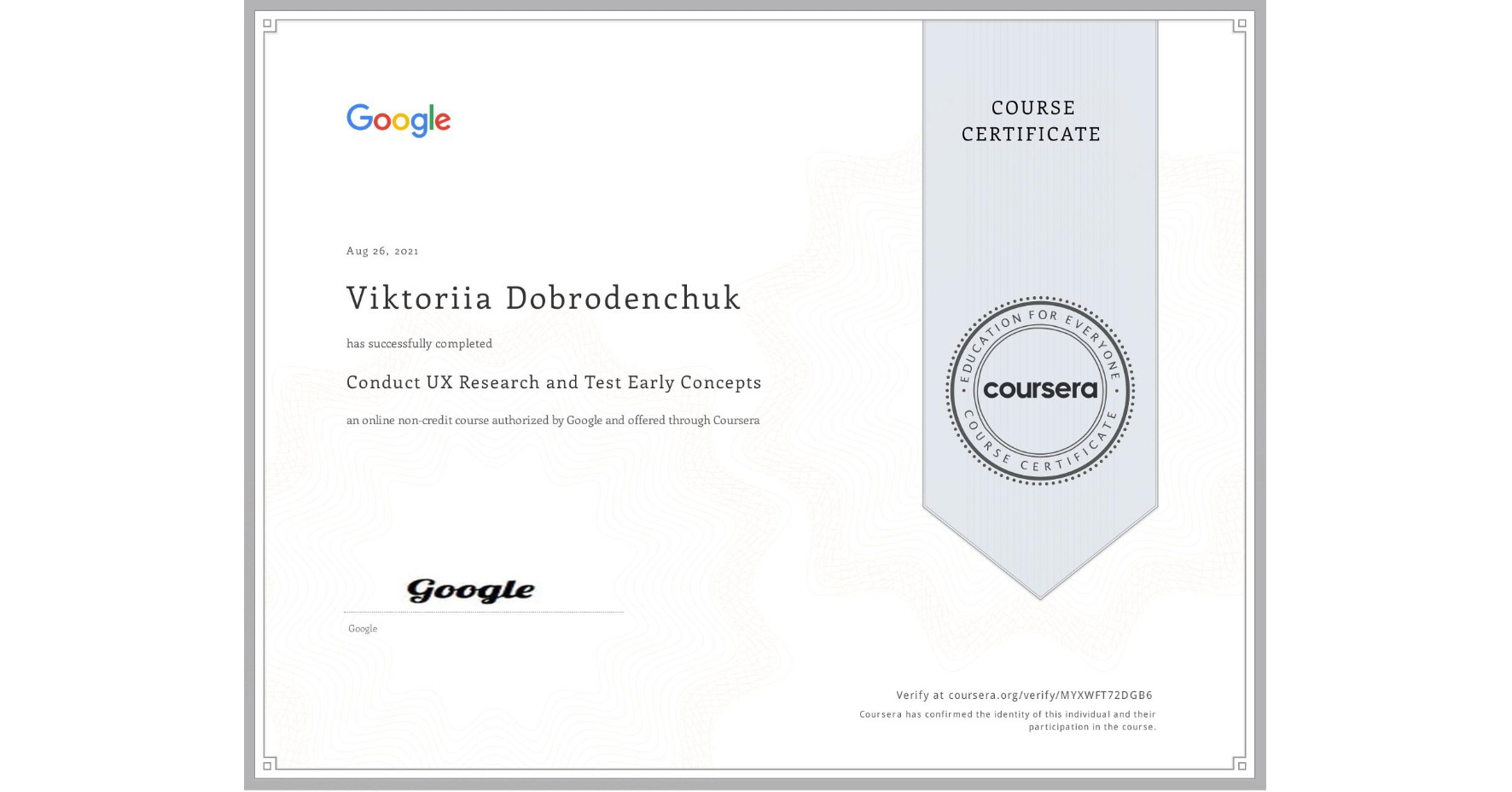 Flow maps and CJM's
Wireframing and Prototyping
Photo processing and retouching
Illustrations on the tablet
I teach at the d
esign school "P
oint.School".
Sometimes I give separate lectures on UX design. Here is a list of topics:
- Material Design for mobile apps;
- User Stories, Personas, JTBD; 
- UX Principles and design self-evaluation;
- Figma Tips and Tricks for non-designers.
Lived in the United States for 4 months.
"Step" Computer Academy
Design, Odessa
from 09.2009 to 07.2013 (3 years 10 months)

For all subjects received the maximum score. I was awarded by the Academy
for particularly high results in studies.
ONEU
International Economics, Odessa
from 09.2009 to 06.2014 (4 years 9 months)